Fire Extinguisher Installation | London | Essex

Fire Extinguisher Installation
Essex & London
---
Ensure that your fire extinguisher installation is carried out by the qualified and experienced fire safety professionals of Breeze Fire Protection Ltd.
UK Health and Safety legislation means that both commercial and residential property owners have need for installation of fire extinguishers. Many customers are keen to buy fire extinguishers online due to competitive pricing and ease of transaction. Yet correct and proper installation of your Fire extinguishers is critical for safety –  incorrect siting, lack of certification and storage can be hazard in time of need.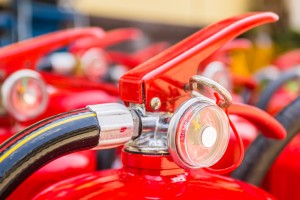 Breeze Fire Protection Ltd. fire extinguisher service engineers are experienced and qualified, not only install the extinguishers in the correct location, but also certify them as adequate for the fire safety risks of your environment. Pre-serviced fire extinguishers which are ready purchased are also potentially risky as they are not checked in the location of installation. Always ensure that your fire safety professional checks your extinguisher for pressure, the condition of hose, leakage and faulty handles on your premises at time of installation.
Wall-mounting you fire extinguisher should again be done by a professional to ensure that wall fixings do not interfere with existing pipework or cabling. Engineers will ensure that the height of the carrying handle should be between 1 and 1.5 meters from the floor depending on the weight of the extinguisher (>4kg or <4kg respectively). Where wall-mounting cannot take place the use of a stand is advised to avoid the extinguisher being left on the floor. Though no-one wants to need a fire-extinguishers is is essential that they will be in good working order and close to hand. They are a key piece of fire safety equipment and should be selected and installed by experienced professionals.
Breeze Fire Protection is a local fire safety contractor which provides all aspects of fire safety including fire extinguishers across London and Essex.
For FREE onsite fire extinguisher advice (no obligation), or a quote for British Safety Standard fire extinguishers, please call your local engineer on:
07806 675171
or, call our office line:
01708 442659
---
* This post appears in Fire Extinguishers London category – Join us on Google+